[This page first appeared on the Cinque Ports Model Yacht Club site.]
Blue and Green are tacking to round the windward mark. Click on the button to show the incident, answer some background questions on the right, and then scroll down to see what you think about some true or false statements.
<! Note that, for some reason, Netscape 3 is unhappy re-playing the GIF animation unless the height or width of the GIF is different from it's original value. The following height has been reduced by one pixel. !>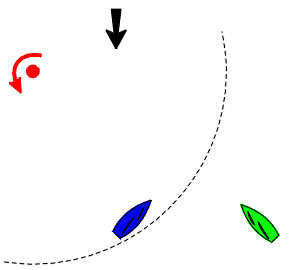 | | |
| --- | --- |
| At the start of the sequence, the boat on starboard is: | |
| At the end of the sequence: | |
Here are some statements. Make up your mind whether each is true or false, and then click on the letter to see what we think.
| | |
| --- | --- |
| | When Blue tacked onto starboard, she lost her rights at the mark. |
| | Green failed to keep clear of Blue. |
| | Blue is obliged to round the mark promptly and sail her proper course to the next mark. |
| | Green was above the starboard layline, which is why she lost out to Blue. |
2008-10-27